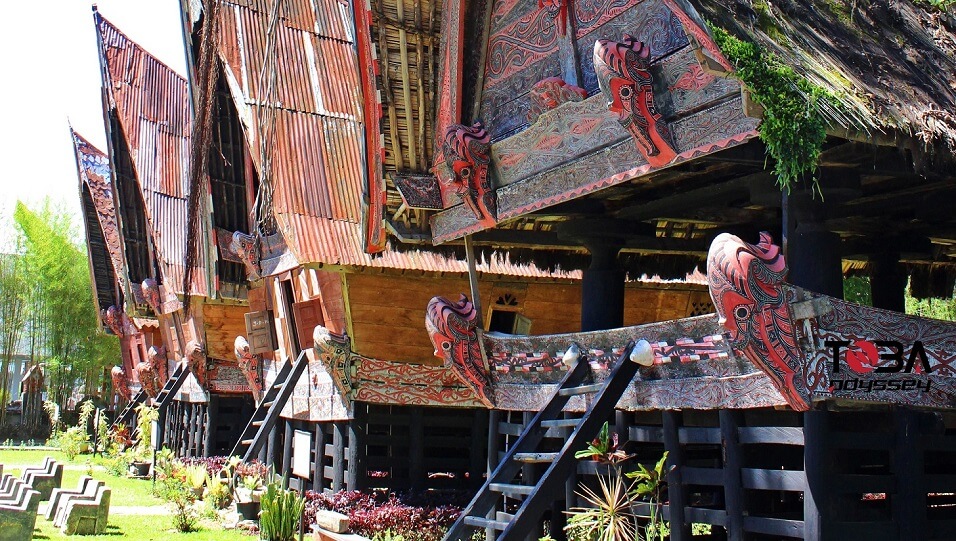 Cultural Heritage
"Where the beauty of nature meets the majesty of culture"
Price FromIDR 8,900,000
Introduction
Enjoy the great scenery of Caldera Toba from South to North, and West to East, with at least 80% coverage of the caldera. Six days journey with an expert guide, friendly traveling companions and comfortable transportation shuttle. In cultural heritage side, we offer you an experience to see and be the part of sacred process of weaving ulos textiles, the ancient tradition Batak people, the original tribe on Caldera Toba.
Savour the moments of breathtaking view along the rim of caldera, gazing upon the beauty of the biggest crater lake on earth. Yet, continue your great experience by sailing the Lake Toba with us. Lake Toba beckons, answer the call.
Itinerary
Day 1
Arrive at 1100hrs at Silangit Airport, local flight from Jakarta. Enjoying the beautiful welcome from Lake Toba in Hutaginjang Hill, then experiencing the unique combination of Batak traditional recipe with Italian Pizza: Andaliman Pizza. First step to study the culture of Batak then be taken to Batak Museum at Balige. Then proceed to sail on Lake Toba for 15 minutes to reach Tiara Bunga Hotel, one of the most beautiful hotel in the Lake Toba region.
Day 2
Enjoy the lake morning view with the perfect shape of sunrise on Lake Toba. Then in the perfect timing, sail back to Balige town, continue transit to Tarutung, the religious city where the German missionary, I.L. Nommensen, came to bring the gospel for the first time to Batak tribe. Fortunately, the finest quality of Batak Textiles, namely "Ulos/Songket Tarutung" is also found here in the region. By half and an hour transit from the city to the heart of the village, we will find some Ulos Weavers who dedicated their lives to weave this ancient art-work, continuing the tradition from the ancestors for hundred of years ago.
After tasting different kind of Batak foods in the city, we then go north to Parapat city, another place on the lake side which offers different perspective and experience to enjoy the ambiance of Lake Toba.
Day 3
Water adventure begins. Early morning we will aboard the big ferry to cross the lake from mainland (Sumatra) to Samosir Island. An ancient cultural site in Tomok will greet you by fascinating history of King Sidabutar, a great-and-famous king on entire island. Then, Siallagan's Megalitic Stone Chair, a well known cultural site for the mythical and dangerous story of how they dealt with betrayal in the past, will tell you the ancient culture of Kings, Witches, Judges, who ruled people in the kingdom.
A warm and proper welcome in Samosir Island has to be offered to the guests. By our special arrangement, the best hotel in Samosir Island will provide a perfect barbecue night for you to remember the hospitality of Batak people. We know for sure, your smiles for today's adventure is our biggest pleasure to close the day with a calm and grateful heart.
Day 4
Hutaraja, Lumban Suhi-suhi is known as the village of weavers, from generations to generations. This is the place where you can still find the Ulos Weavers weaving their textiles traditionally, just in front of their traditional Batak houses. Once again, the guests will have a unique experience to learn different motives of ulos textiles, while the local people are willingly providing the food, also with traditional recipes.
After the completion of visit, we then proceed to transit along the rim of the Caldera Toba, making our way to cross the lake through the "Tano Ponggol", a narrow land which connects the Sumatra to Samosir Island. Breathtaking landscape of the caldera, tremendous looks of Pusuk Buhit Mount -- the children of Mount Toba which erupted 74,000 years ago formed the biggest crater lake on earth -- will compensate the long journey you'd take to reach another destination on your tour to Lake Toba.
Day 5
We call this as "Pearl of Lake Toba" with million of reasons. We begin with sunrise scene on One-Tree-Hill, feel the fresh and calmness of the air in the morning, to a very delicious breakfast provided every morning in this resort. You can choose all the kind of activities to complete your luxury vacation on this resort: jungle trekking, agro-tourism, farming experience, archery, and tasting several kinds of organic tea and coffee which are planted organically within the land of this resort.
As a compliment from us, we also arrange a traditional massage for minimum 2 hours, to let you enjoy another type of our hospitality in a concrete action. Feel, breath, savour your moments in Lake Toba with our special treatment to you, our honoured guests.
Day 6
Medan city tour is one of the highlight of our tour. Maimoon palace shows a delicate artwork that tells you a highly civilised kingdom of Malay culture in North Sumatra, who still has a strong connection to Malaysian across the Malacca Strait. Then Tjong A Fie mansion will tell you the strong relation between the Chinese culture and Malay in the age of Dutch colonials.
And as an epic closure of our culture, the one of the finest Sumatran Coffee is served to lighten up your mood with the best roasted coffee beans. This is our way to say "Sayonara" to our honoured guests, as your dedicated travel companions to enjoy Caldera Toba, the biggest crater lake on earth.
Introduction
Enjoy the great scenery of Caldera Toba from South to North, and West to East, with at least 80% coverage of the caldera. Six days journey with an expert guide, friendly traveling companions and comfortable transportation shuttle. In cultural heritage side, we offer you an experience to see and be the part of sacred process of weaving ulos textiles, the ancient tradition Batak people, the original tribe on Caldera Toba.
Savour the moments of breathtaking view along the rim of caldera, gazing upon the beauty of the biggest crater lake on earth. Yet, continue your great experience by sailing the Lake Toba with us. Lake Toba beckons, answer the call.
Explore the history of Batak and Lake Toba through museum visit
Experience the sacred process of weaving ancient Batak textiles
Enjoy the mythical history of Batak people in Samosir Island
Visit the unique Batak houses in Batak village and tour of Caldera
One day to compliment yourself by Simalem Resort's hospitality
Medan city tour: a visit of inculturation of Chinese and Malay's
Duration: 6 days
Start from Silangit Airport to Medan
What to expect
Coffee plantation, roasting, and serving tour is inserted in the itinerary. Also, all different kinds of food and traditional Batak recipe along the caldera is included as well. Samosir Island stay, Medan city tour. All transport modes are luxury in between destinations and to/from included activities.
Highlights
Explore the ancient tradition of Ulos and Wood-carving, watch the sunrise from different spots of hills around Lake Toba, relax on an ultimate Toba tourism resort hill, learn where famous Sumatra coffee comes from, compliment your self with "free-of-charge" traditional healing massage.
Itinerary Disclaimer
It is our major objective to adhere to the route described below, but there is a certain amount of flexibility built into the itinerary and on occasion it may be necessary, or desirable to make alterations. Most of the time, our guests were proactively requesting some alterations required.
Due to our unique approach and service of travel and the uniqueness of regions we visit, our travel can be unpredictable at some point. The Trip Details document is a general guide to the tour and region and any mention of specific destinations or wildlife is by no means a guarantee that they will be visited or encountered. Last but not least, any travel times listed are approximations only and subject to vary due to local circumstances.
Group Leader Description
All group trips are accompanied by one of our Chief of Tour (COT). The aim of the COT is to take the hassle out of your travels and to help you have the best trip possible. They will provide information on the places you are travelling through, offer suggestions for things to do and see, recommend great and hygienic local eating venues and introduce you to our local friends. While not being guides in the traditional sense you can expect them to have a broad general knowledge of the countries visited on the trip, including historical, cultural, religious and social aspects. Most of the COT we have are knowledgeable and graduated from great universities in Indonesia, and the research team of tour are lead by a highly experienced professional who has travelled to 4 continents, 15 countries, and also worked together with so many people throughout the world. We also use local guides where we think more specific knowledge will add to the enjoyment of the places we are visiting - we think it's the best of both worlds.
Group Size Notes
Max 20, Min 4
Meals
We are fully aware that food is one of the most important products of culture, and yet the important part of traveling. Either modern or traditionally served, hygienic factors, taste, and craftsmanship of the food are guaranteed to keep the wellbeing of the guests along the entire tour.
Generally meals are always included in the trip price to give you the maximum comfortability without any confusions in deciding where, what and with whom to eat. All the restaurants, houses, and small "kedai" in where we travel have been thoroughly surveyed by our team by the standard of hygienic, reasonable prices, and for sure meets the delicious taste. Our groups tend to eat together to enable you to taste a larger variety of dishes and enjoy each other's company. There is no obligation to do this though. Included breakfasts will usually be asian style consisting of noodles or congee (rice porridge) or bread and eggs. Vegetarians will be able to find a range of different foods, although in some areas the choice may be limited. While trekking in remote regions food is included, plentiful and made of fresh local ingredients. For all trips please refer to the meals included and budget information for included meals and meal budgets.
Indonesian cooking contains fermented shrimp paste (terasi) as a basic ingredient. It is also known that Batak traditional food is always spicy, so it has been adjusted to the certain level of spiciness that all people can tolerate it. Although there are many vegetarian options available, please be specific when ordering food, as often a little chicken is included with most dishes.
Transport
Private van, walking, boat.
Solo Travellers
Note that our group trips are designed for shared accommodation and do not involve a single supplement. Single travellers joining group trips are paired in twin or multi-share accommodation with someone of the same sex for the duration of the trip. Some of our Independent trips are designed differently and single travellers on these itineraries must pay the single trip price.
Accommodation
Two to three-star hotels with minimum superior class (5 nts).
My Own Room
Please note that if you have booked the "My Own Room" option for this tour, you will receive your own single room for all night stops.
Joining Hotel
For details of your joining hotel please refer to your tour voucher and contact your travel agent to make sure that your booking is valid.
Joining Instructions
To reach Silangit Airport, first you have to travel to local-international airport of Indonesia, e.g. Soekarno Hatta International Airport. We strongly recommend you to get the Garuda Indonesia Airways (GIA) in order to fly to Silangit Airport. GIA has three flights a week to Silangit Airport. When arriving at Silangit Airport, our COT will warmly welcome you at the arrival gate of the airport to make sure you will safely join our designated private van.
Arrival Complications
If for any reason you are unable to join the group as scheduled, please call the emergency contact number : +62 813 6002 7007.
Arrival Complications
We don't expect any problems, and nor should you, but if for any reason you are unable to commence your trip as scheduled, as soon as possible please contact your starting point hotel, requesting that you speak to or leave a message for your COT (if you are not on a group tour please refer to the emergency contact details provided in this dossier). If you are unable to get in touch with your COT, please refer to our emergency contact details. If you have pre-booked an airport transfer and have not made contact with our representative within 30 minutes of clearing customs and immigration, we recommend that you make your own way to the Starting Point hotel, following the Joining Instructions. Please apply to your travel agent on your return for a refund of the transfer cost if this occurs.
Emergency Contact
Should you need to contact us during a situation of dire need, it is best to first call either the Toba Odyssey's Local Representative (if one is listed below) or our Toba Odyssey's Local Office. If for any reason you do not receive an immediate answer, please leave a detailed message and contact information, so they may return your call and assist you as soon as possible.
AIRPORT TRANSFER
If you have purchased an arrival through Toba Odyssey or if an arrival transfer is included in the cost of your tour, please note that:
Your arrival transfer has been arranged based on flight information provided to us. If you are advised of a flight schedule change within 48 hours of your scheduled arrival time, we will do our best to rearrange your arrival transfer however we cannot guarantee this.
EMERGENCY CONTACT NUMBERS
Indonesia 24 hours:
+62 (0) 813 6002 7007
+62 (0) 852 7512 3344
+62 (0) 813 7151 6646
Toba Odyssey Office Jakarta, Indonesia
During Office hours (Weekdays, 9am-5pm Local Time)
What to Take
What you need to bring depends on the trip you have chosen and the countries or regions you are planning to visit. We suggest that you pack as lightly as possible as your are expected to carry your own luggage. As a rule we try not to have to walk more than 15-20 mintues with your bags which is why we recommend keeping the weight of your bags between 10-15kg/22-30lb. Suitcases are not recommended for Toba Odyssey trips! Most travellers carry a backpack or rolling bag of small to medium size (no XXL ones please!) as they need to fit with you in buses or on trains. You will also need a day pack/bag to carry water, cameras and other electronics like ipods and mobile phones. If your trip involves overnights in homestays, villages or camping then you usually have the opportunity to rent sleeping bags if need be instead of bringing them with you.
Checklist
-Passport (with photocopies)
-Travel insurance (with photocopies)
-Airline tickets (with photocopies)
-Debit or credit card (see personal spending money)
-Cash in USD
-Toba Odyssey vouchers, pre-departure information and - Required visas or vaccination certificates
-Day pack for daily personal items
-Locks for bags
-First-aid kit
-Day pack (for overnight stays)
-Watch and Alarm clock
-Sunblock/Sun hat
-Sunglasses
-Watch and alarm clock
-Insect Repellent
-Headlight
-Toiletries
-Reusable water bottle
-Ear plugs
-Small towel
-Money belt
-Sturdy walking shoes
-Long pants/jeans
-Long-sleeved shirts or sweater
-Windproof rain jacket
-Clothes that cover knees and shoulders (long pants/sarong)
-Hiking pants/track pants
-Camera
-Waterproof backpack cover
-Reading/writing material
-First-aid kit
-Binoculars
-Pocketknife
-Rehydration powder
Laundry
Laundry facilities are offered by some of our hotels for a charge. There will be times when you may want to or have to do your own laundry so we suggest you bring non-polluting/biodegradable soap.
Visas
***Please note that we always recommend all nationalities to check with their embassy about entry requirements to Indonesia. The situation with visas in Indonesia is changing frequently, and the below information is accurate as of June 19th, 2015.
A 30-day free visa is available at some arrival locations in Indonesia for many nationalities. This visa is non-extendable. This free visa is available at: Jakarta (Soekarno-Hatta Airport), Bali (Ngurah Rai Aiport), Medan (Kualanamu Airport), Surabaya (Juanda Airport) and Batam (Hang Nadim International Airport). All travelers to Indonesia must be in possession of passport valid for at least six months from date of arrival and have proof (tickets) of onward or return passage.
The nationalities below will be able to receive the 30-day free visa, however we always advise to check with your embassy to confirm entry requirements:
Austria, Bahrain, Belgium, Brunei, Cambodia, Canada, Chile, China, Czech Republic, Denmark, Ecuador, Finland, France, Germany, Hong Kong, Hungary, Italy, Japan, Kuwait, Laos, Macau, Malaysia, Mexico, Morocco, Myanmar, Netherlands, New Zealand, Norway, Oman, Peru, Philippines, Poland, Qatar, Russia, Singapore, South Africa, South Korea, Spain, Sweden, Switzerland, Thailand, United Arab Emirates, United Kingdom, United States, Vietnam
A 30-day visa-on-arrival is available at all international airports in Indonesia for USD 35. It is then possible to extend this visa for an additional 30 days at the immigration office. Official price is USD 35, extension takes a couple of days and can't be processed at the airport. All travelers to Indonesia must be in possession of passport valid for at least six months from date of arrival and have proof (tickets) of onward or return passage. Payment of visa fees can be made in all major currencies (cash or credit card). However, to avoid any difficulties or abusive exchange rate problems, we highly recommend brining USD 35 in cash.
Visa extension can be done at the Immigration Office (Kuta in Bali) and will take approximately 7 working days. Cost is additional 35 USD for another 30 Days. Maximum stay is 60 Days
The below countries qualify for getting their visa on arrival:
South Africa, Algeria, US, Argentina, Australia, Austria, Bahrain, Belgium, The Netherlands, Brazil, Bulgaria, Czech Republic, Cyprus, Denmark, UAE, Estonia, Fiji, Finland, Hungary, India, UK, Iran, Ireland, Iceland, Italy, Japan, Germany, Cambodia, Canada, South Korea, Kuwait, Laos, Latvia, Libya, Liechtenstein, Lithuania, Luxemburg, Maladewa, Malta, Mexico, Egypt, Monaco, Norway, Oman, Panama, France, Poland, Portugal, Qatar, China, Romania, Russia, Saudi Arabia, New Zealand, Slovakia, Slovenia, Spain, Surinam, Sweden, Switzerland, Taiwan, Timor Leste, Tunisia, Greece
***Travelers from all destinations not listed above must have their visa arranged in advance through their local consulate.
Detailed Trip Notes
Indonesia has long been a great tourist destination and is an intriguing and rewarding destination to visit. English is widely spoken, transportation and infrastructure is good, but maybe not at the same level as you would expect in developed countries. If you are able to bring with you a lot of patience, a great sense of humour and a willingness to try and interact with the local people, your travel experience wil be greatly enhanced.
Spending Money
Every traveller is different and therefore spending money requirements will vary. Some travellers may drink more than others while other travellers like to purchase more souvenirs than most. Please consider your own spending habits when it comes to allowing for drinks, shopping and tipping. Please also remember the following specific recommendations when planning your trip.
Money Exchange
During this tour the local currency you will use is the Indonesian Rupiah. As currency exchange rates in South East Asia do fluctuate, we ask that you refer to the following website for the most up to date daily exchange rates: www.xe.com for each of the above mentioned currencies. The best way to carry your money is in debit cards, withdrawing cash in local currencies from ATM machines. ATMs are found throughout South East Asia and will generally accept cards on the Visa and Mastercard networks. It is a great idea to travel with both a Visa and Mastercard if at all possible in case of loss or problems with one card, you will have a back up. Please note, your bank will charge a fee for overseas withdrawals. USD Cash is recommended for times when ATMs are not accessible. You should bring some cash with you for emergency situations (please refer to our trip dossier) but carrying only cash is a high safety risk. ATM card/s and some cash is the ideal mix. Travellers cheques can be tricky, timely and expensive to exchange. While we do not recommend that you bring them as your primary source of funds, it is great to have one or two cheques in case of emergency. Thomas Cook or American Express travellers' cheques in US currency are the easiest to exchange. Cash advances can also be made with some banks but are time consuming and tend to have high fees attached.Credit cards can be used at some upmarket restaurants, and at some larger stores if shopping for big items. If you are bringing US Dollars, please make sure that the notes are new and in good condition. Notes older than 2003, or with any tears or blemishes may not be accepted. Be fussy with your bank when buying cash!
Emergency Fund
Please also make sure you have access to at least an additional USD $250 (or equivalent) as an 'emergency' fund, to be used when circumstances outside our control (ex. a natural disaster) require a change to our planned route. This is a rare occurrence!
Departure Tax
Departure Tax in Indonesia is not included in the cost of your flight ticket. Departure taxes are per person per departure and payable only in cash at the time of departure. Departure tax is paid for by G Adventure for any included internal flights. Taxes will need to be paid for any non-included flights you may be taking, including international air from the destination. Below are updated tax prices, which change frequently with little notice. Please check with your COT for updated rates.
Denpasar Airport (DPS): Domestic flights: 75.000 IDR (from 1st August), International flights: 200.000 IDR (from 1st April).
Juanda International Airport near Surabaya (SUB): Domestic flights: 75.000 IDR, International flights: 200.000 IDR (both from 1st April).
Sultan Aji Muhamad Sulaiman International Airport in Balikpapan (BPN): Domestic flights: 75.000 IDR, International flights: 200.000 IDR (both from 1st April).
Sultan Hasanuddin International Airport (UPG): Domestic flights: 50.000 IDR, International flights: 150.000 IDR (both from 1st April).
Lombok International Airport (LOP): Domestic flights: 45.000 IDR, International flights: 150.000 IDR (both from 1st April).
Tipping
It is customary in Asia to tip service providers such as waiters, at approximately 10%, depending on the service. Tipping is expected - though not compulsory - and shows an expression of satisfaction with the people who have assisted you on your tour. Although it may not be customary to you, it is of considerable significance to the people who will take care of you during your travels. There are several times during the trip where there is opportunity to tip the local guides or drivers we use. You may do this individually, or your COT will offer to collect the money and tip as a group. Recommendations for tipping drivers and local guides would range from $1.5-$3.5 USD per person per day depending on the quality and length of the service; ask your COT for specific recommendations based on the circumstances and culture. Also at the end of each trip if you felt your Toba Odyssey COT did an outstanding job, tipping is appreciated. The amount is entirely a personal preference, however as a guideline $20-25 USD per person, per week can be used.
Optional Activities
Samosir
- Bicylcle Rental $5 USD
Health
Please note inoculations may be required for the country visited. It is your responsibility to consult with your travel doctor for up to date medical travel information well before departure.
There are no specific health requirements for this trip. However, you should consult your doctor for up-to-date medical travel information about before departure. We recommend that you carry a First Aid kit and hand sanitizers / antibacterial wipes as well as any personal medical requirements. In Asia pharmacies tend to stock the same western drugs as you get at home but they are usually produced locally so please bring the full drug name with you when trying to purchase a prescription drug. When selecting your trip please carefully read the brochure and itinerary and assess your ability to cope with our style of travel. Please refer to the Physical and Culture Shock ratings for trip specific information.
Safety and Security
Many national governments provide a regularly updated advice service on safety issues involved with international travel. We recommend that you check your government's advice for their latest travel information before departure. We strongly recommend the use of a neck wallet or money belt while travelling, for the safe keeping of your passport, air tickets, travellers' cheques, cash and other valuable items. Leave your valuable jewellery at home - you won't need it while travelling. Many of the hotels we use have safety deposit boxes, which is the most secure way of storing your valuables. A lock is recommended for securing your luggage. When travelling on a group trip, please note that your COT has the authority to amend or cancel any part of the trip itinerary if it is deemed necessary due to safety concerns. Your COT will accompany you on all included activities. During your trip you will have some free time to pursue your own interests, relax and take it easy or explore at your leisure. While your COT will assist you with options available in a given location please note that any optional activities you undertake are not part of your itinerary, and we offer no representations about the safety of the activity or the standard of the operators running them. Please use your own good judgment when selecting an activity in your free time. Although the cities visited on tour are generally safe during the day, there can be risks to wandering throughout any major city at night. It is our recommendation to stay in small groups and to take taxis to and from restaurants, or during night time excursions.
Protests and Demonstrations- Protests and demonstrations, even those that are well intended, have the potential to turn violent with no warning. Counter protests can also turn violent. Action by security forces to disperse demonstrators and protesters may occur at any time. If you are in an area where demonstrators or protesters are gathering, avoid the temptation of staying for a good photo opportunity and leave the area immediately.
Water based activities have an element of danger and excitement built into them. We recommend only participating in water based activities when accompanied by a guide(s). We make every reasonable effort to ensure the fun and adventurous element of any water based activities (in countries with varying degrees of operating standards) have a balanced approach to safety. It is our policy not to allow our COTs to make arrangements on your behalf for water based activities that are not accompanied by guide(s).
Swimming, including snorkeling, is always at your own risk.
We take all prudent measures in relation to your safety. For ways to further enhance your personal safety while traveling, please visit:
We strongly recommend the use of a neck wallet or money belt while travelling, for the safe keeping of your passport, air tickets, travellers' cheques, cash and other valuable items. Leave your valuable jewellery at home - you won't need it while travelling. Many of the hotels we use have safety deposit boxes which is the most secure way of storing your valuables. A lock is recommended for securing your luggage.
Medical Form
Our small group adventures bring together people of all ages. It is very important you are aware that, as a minimum, an average level of fitness and mobility' is required to undertake our easiest programs. Travellers must be able to walk without the aid of another person, climb 3-4 flights of stairs, step on and off small boats, and carry their own luggage at a minimum. Travellers with a pre-existing medical condition are required to complete a short medical questionnaire, which must be signed by their physician. This is to ensure that travellers have the necessary fitness and mobility to comfortably complete their chosen trip. While our COTs work hard to ensure that all our travellers are catered for equally, it is not their responsibility to help individuals who cannot complete the day's activities unaided.
A Couple of Rules
Illegal drugs will not be tolerated on any trips. Possessing or using drugs not only contravenes the laws of the land but also puts the rest of the group at risk. Smoking marijuana and opium is a part of local culture in some parts of the world but is not acceptable for our travellers. Our philosophy of travel is one of respect towards everyone we encounter, and in particular the local people who make the world the special place it is. The exploitation of prostitutes is completely contrary to this philosophy. Our COTs have the right to expel any member of the group if drugs are found in their possession or if they use prostitutes.
Travel Insurance
Travel Insurance: Travel insurance is compulsory in order to participate on any of our trips. When travelling on a group trip, you will not be permitted to join the group until evidence of travel insurance has been sighted by your COT, who will take note of your insurance details. When selecting a travel insurance policy please bear in mind that all clients must have medical coverage and that we require a minimum coverage of USD 200,000 for repatriation and emergency rescue. We strongly recommend that the policy also covers personal liability, cancellation, curtailment and loss of luggage and personal effects. If you have credit card insurance we require proof of purchase of the trip (a receipt of credit card statement) with a credit card in your name. Contact your bank for details of their participating insurer, the level of coverage and emergency contact telephone number.
"SOPO BELAJAR" (Public Library in rural areas of Toba) Program
Through our commitment to responsible tourism we have developed the Sopo Belajar Program, a non-profit organization dedicated to making a positive difference in the lives of people and communities around the Lake Toba, working on basic literacy in rural areas. Toba Odyssey matches all individual donations and pays all administration costs, which means that 100% of each donation is doubled and goes directly to support our projects. For more information about Sopo Belajar and the projects we support, or to make a donation, please contact your COT.
Sopo Belajar "Dollar-A-Day" Program
Our Dollar-A-Day Program provides travellers with the opportunity to help us give back to the people and places visited on our tours by donating one dollar per day for the duration of their tour. 100% of these proceeds will go directly to support our Toba Odyssey for Good projects.
Local Dress
When packing be aware that dress standards are conservative throughout Asia. To respect this and for your own comfort, we strongly recommend modest clothing. This means covering shoulders and no short shorts. Loose, lightweight, long clothing is both respectful and cool in the predominantly hot Asian climate. Shorts should be knee-length. Singlets and tank tops are not acceptable. One piece bathing suits are recommended and topless sun bathing is unacceptable.
Feedback
After your travels, we want to hear from you! Your feedback information is so important to us that we'll give you 10% off the price of your next Toba Odyssey trip if your feedback is completed on-line within 30 days of finishing your trip. Your tour evaluation will be e-mailed to you 24 hours after the conclusion of your trip. If you do not receive the tour evaluation link in the days after your tour has finished, please drop us a line at customer@tobaodyssey.com and we will send it on to you.
Newsletter
Our adventure travel e-newsletter is full of travel news, trip information, interesting stories and contests. To avoid missing out on special offers and updates from Toba Odyssey, subscribe at www.tobaodyssey.com/newsletters/
Stay current on how our company invests in our local community through our foundation – Sopo Belajar. Sign up for Sopo Belajar monthly news to learn more about how to give back and support the people and places we love to visit.
Please follow and like us: